About DMR
DMR Herefords is owned by David Ross and was started in the fall of 1999 with the purchase of Kimbrook Megan 14J. Since then the herd has changed with the purchase and sale of cattle but the focus still remains the same to produce top quality Hereford cattle. In 2007 the herd had been dispersed as David was attending university in the United Kingdom. However embryos were collected from some of the cows prior the dispersal so that re-establishment of the herd could be done relatively easy while maintaining the genetics of the herd. All the cattle had been sold to Hirsche Herefords where they have worked well in such a large herd. In the dispersal of the Hirsche Herd two of the DMR females were purchased back to re-establish the herd with the original genetics of the herd.
DMR Herefords prior to 2007 dispersal was not solely David but also Morgan and Hayley Kemp his little cousins who have had a great interest in the cattle. Currently as the cattle have been sold Hayley stays involved by showing cattle for other breeders in the junior and 4H programs.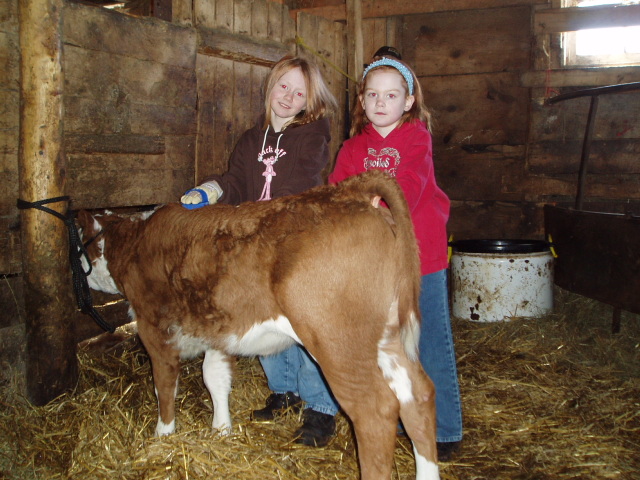 Hayley and Morgan working together to train one of the calves.
David works with other Hereford breeders in promoting their cattle and helping to find them sale them. David has a strong interest in showing cattle and believes that it is an important way of marketing a breeding program. As part of this David provides fitting services to cattle breeders of any breed around the world and as worked in several countries fitting cattle for shows and sales.
David also has had active rolls in the junior program and 4H. He has been Maritime Jr. Hereford Association President and Vice and Maritime delegate on the CJHA. While on the CJHA David was responsible for the development of the Heifer Lottery program in its 2nd and 3rd year, this program is now one of the best programs offered by the CJHA. David also has been involved with organizing of the cattle show at the PEI Provincial Plowing Match & Agricultural Fair; part of this is with the Herefords and the other is with 4H. The 4H program has been very important to David and he works to help with the development of the program.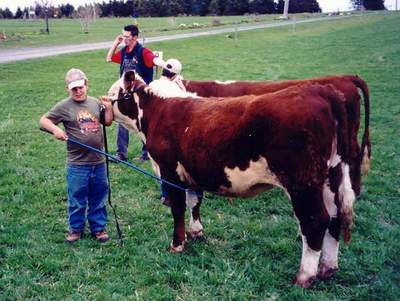 David teaching young 4H members at a beef workshop about showmanship skills.
Home About DMR Cows Sires Show Results Fitting Partnerships Semen & Sale Cattle Contact & Links